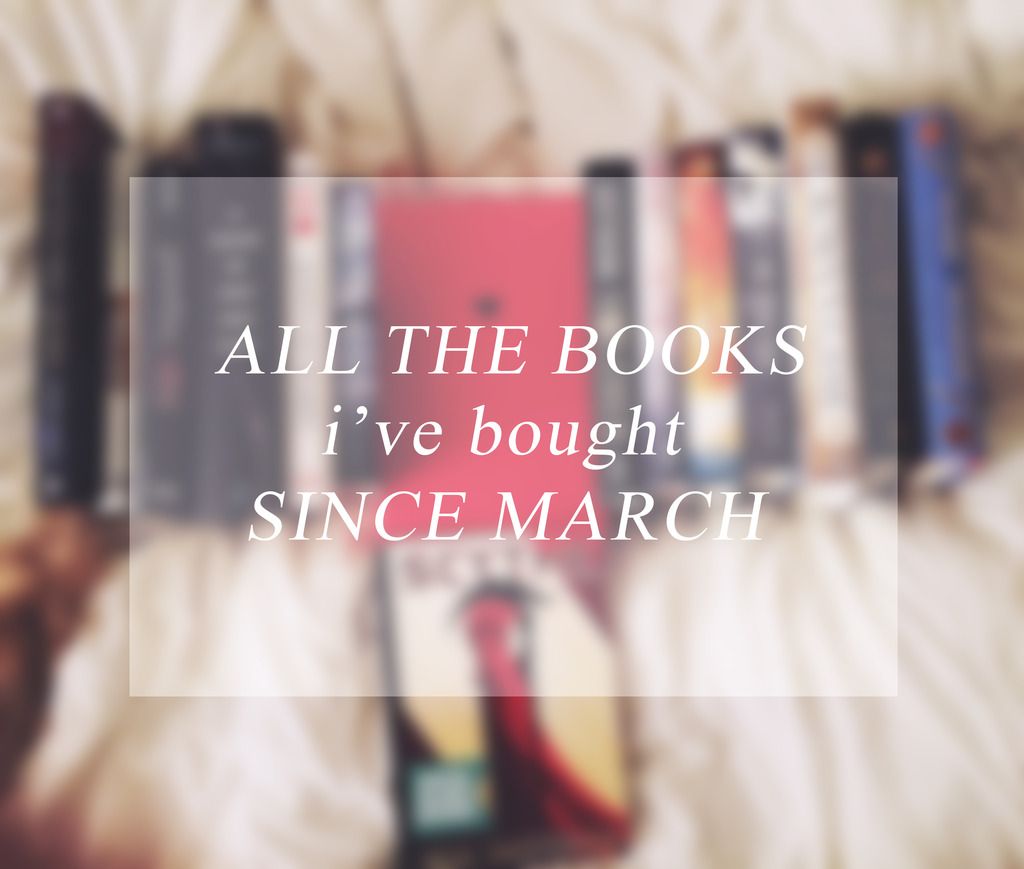 Disclaimer: All books were purchased with my own money unless otherwise stated in the blog post! All opinions are my own. All photos are mine unless otherwise credited.
Oh boy, so I haven't posted a book haul ANYWHERE since I've stopped making videos on my youtube channel. As you can imagine, they've accumulated. I haven't even posted a bookstagram photo of all my books. And as a result, I've been avoiding working on this blog post for awhile. I finally got off my butt and stopped procrastinating….so here are all the books I've bought since the beginning of March.
Okay so I did my best to divide them up into genres, and here we go.
So I grouped these together as my Sci-Fi books. I'm hesitant to call
Everland by Wendy Spinale
sci-fi? It's a retelling of Peter Pan with some sci-fi elements maybe even fantasy elements but I wasn't too sure what genre to place it in. All I know is that I am so excited to read it!! (I'll be linking goodreads links for every book - just click on the titles through out the post!)
The Hunt by Megan Shepherd
,
Marked by Jenny Martin
,
The Countdown by Kimberly Derting
, and
The Last Star by Rick Yancey
are all sequels or conclusions to series that are currently out. I am pretty excited to read The Last Star because I'm eager to find out what happens to Cassie and Zombie and everyone but ONCE AGAIN, I am disappointed with the size of the book. It should be AT LEAST 500 pages. AT LEAST.
Bloodline by Claudia Gray
was an auto buy for me. I'll read anything by Claudia Gray and bonus points she's writing tons of star wars fiction and I am totally here for that.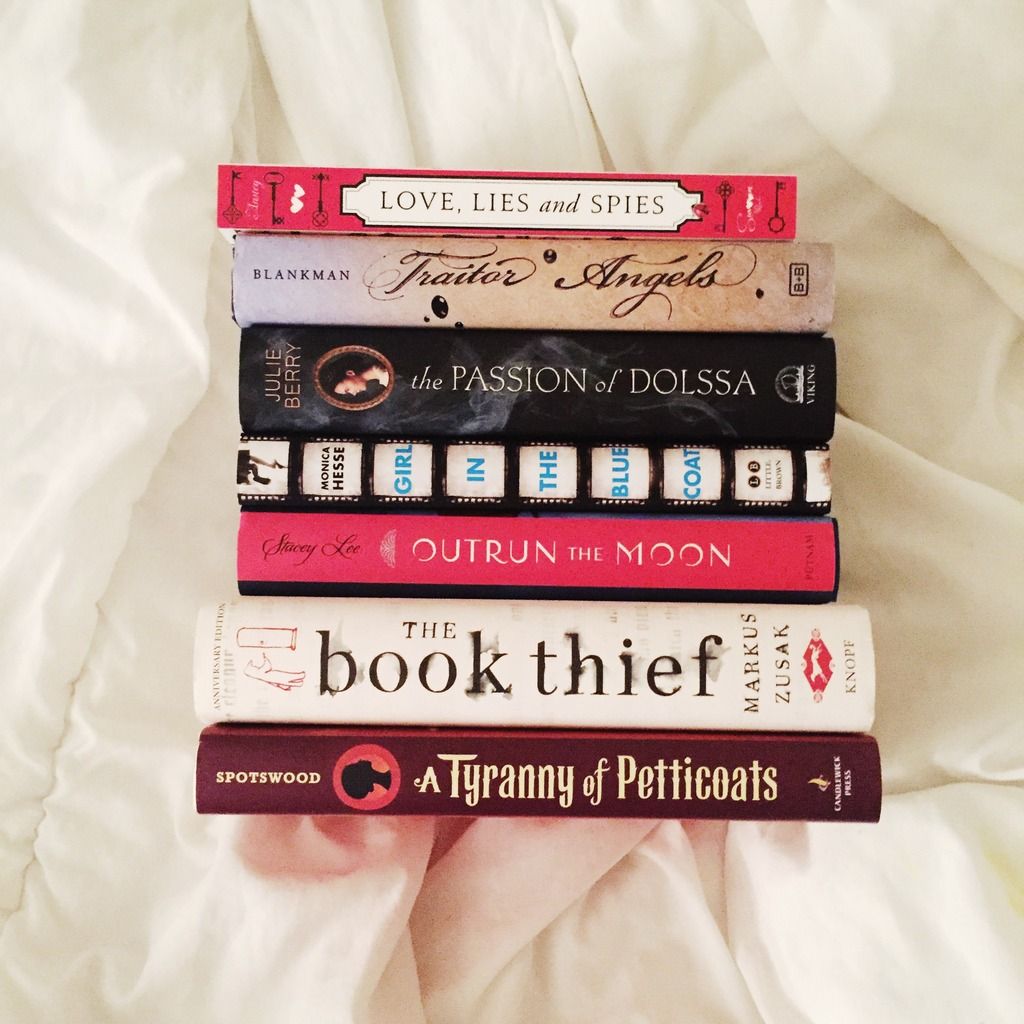 These are all the historical fiction books I've acquired since the beginning of March. I sort of fell in love with this special edition of The Book Thief by Markus Zusak and I had to have it! I STILL haven't read it!! BUT I WILL. I recently watched a video by
itsjanelindsay
(you guys need to check out her channel! I love her videos so much!) on booktube and it made me want to delve into the historical fiction genre even more so. Another recommendation that I got from that video was
Girl in the Blue Coat by Monica Hesse
. So thanks Jane! I think the book that I'm the most excited for is Outrun the Moon by Stacey Lee -- POC author writing about POC characters, yes please! I also picked up Love, Lies, and Spies by Cindy Anstey, Traitor Angels by Anne Blackman, The Passion of Dolssa by Julie Berry, and A Tyranny of Petticoats by many authors and edited by Jessica Spotswood.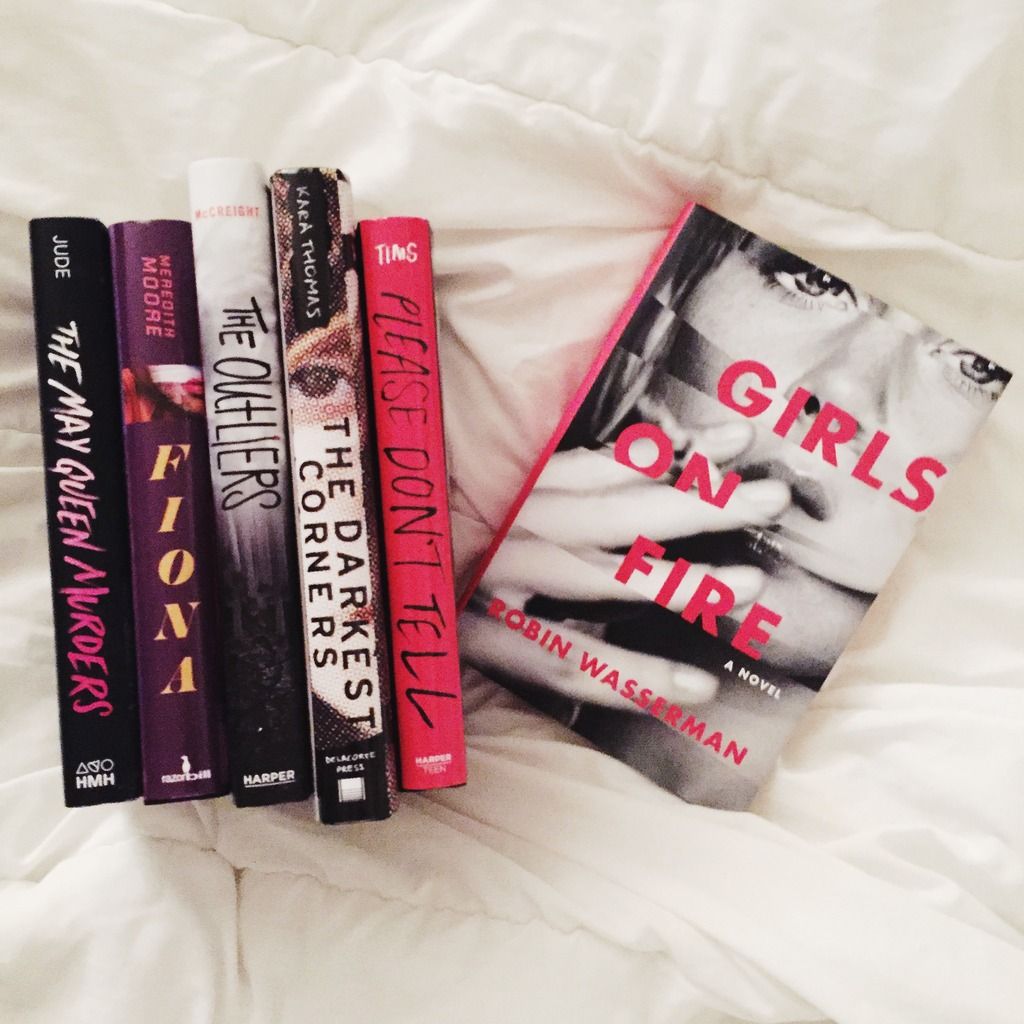 In this group, are all my thrillers, mostly young adult but one adult thriller in the mix.
Girls on Fire by Robin Wasserman
is the adult thriller. I heard about this book from
Lala at booksandlala
on booktube. You should also check out her channel as well. It's another that I love going to for recommendations. All the rest are YA thrillers. I am so excited for
The Darkest Corners by Kara Thomas
and
The Outliers by Kimberly McCreight
. There's lots of buzz surrounding these two titles. The other three YA thrillers I've picked up are
Please Don't Tell by Laura Tims
,
Fiona by Meredith Moore
, and
The May Queen Murders by Sarah Jude
. Can I also say that the covers for Girls on Fire and The May Queen Murders are to die for. So freaking gorgeous and haunting. I'm hoping that the words on the inside are just as haunting and gorgeous!!
These are all the books I thought were classified as "contemporary with some magical/fantastical elements". One of them is definitely almost magical realism. The one I'm the most excited for is
Some Kind of Happiness by Claire LeGrand
. It's about a little girl who lives by a forest that may or may not be magical! I'm also super excited for
Down with the Shine by Kate Karyus Quinn
. It sort of has that "be careful what you wish for" theme. The other books that I've picked up in this genre are
Dreamology by Lucy Keating
,
Lady Renegades by Rachel Hawkins
,
A Drop of Night by Stefan Bachmann
,
Holding Smoke by Elle Cosimano
,
It Wasn't Always like this by Joy Preble
, and
Behold the Bones by Natalie C. Parker
. If the name Elle Cosimano sounds familiar she wrote the Nearly Gone duology!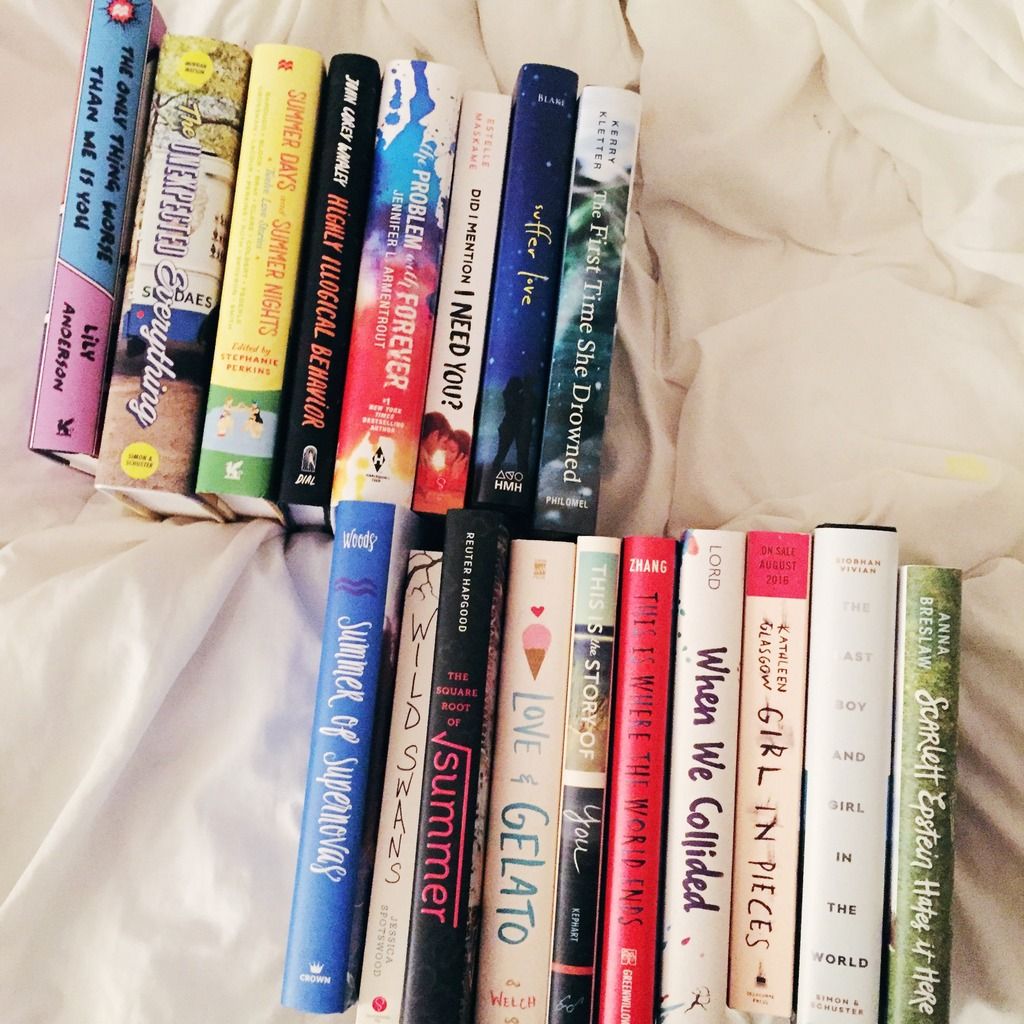 Okay so here are all the contemporaries. The contemporary genre is always a genre I come back. It's like old faithful. I definitely complain about it sometimes, but nothing can top that feeling I can get when I read an emotional, swoony, poignant contemporary story. SO HERE ARE A BUNCH THAT I'VE GOT SINCE MARCH. It's alot. So I'm going to list them all now...ready? Scarlet Epstein Hates it Here by Anna Breslaw, The Last Boy and Girl in the World by Siobhan Vivian, Girl in Pieces by Kathleen Glasgow, When We Collided by Emery Lord, This is Where It Ends by Amy Zhang,
This is the Story of You by Beth Kephart
,
Love & Gelato by Jenna Evans Welch
,
The Square Root of Summer by Harriet Reuter Hapgood
, Wild Swans by Jessica Spotswood,
Summer of Supernovas by Darcy Woods
...still with me there? *deep breath*
The First Time She Drowned by Kerry Kletter
,
Suffer Love by Ashley Herring Blake
,
Did I Mention I Need You by Estelle Maskame
,
The Problem with Forever by Jennifer L. Armentrout
,
Highly Illogical Behavior by John Corey Whaley
,
Summer Days and Summer Night by many authors and edited by Stephanie Perkins
, The Unexpected Everything by Morgan Matson, and finally,
The Only Thing Worse than Me is You by Lily Anderson
. Okay did you get all of that? If you're still here...one I really appreciate because that was a whole lot of books to list in row and two I'm gonna talk about three of the books that I'm probably the MOST excited for. Although, it WAS hard to choose because I'm excited for ALL THESE.
The Unexpected Everything by Morgan Matson is a book I've been highly anticipating for a long time. I was actually approved for digital review copy on edelweiss in exchange for an honest review so shout out to Simon & Schuster! I, however, couldn't get to it in time to review for its release BUT I did end up getting an autographed copy from my local independent book store!! AND I'm all caught up with my Morgan Matson reads so The Unexpected Everything is next on my contemporary TBR. I'm also EXTREMELY excited for The Last Boy and Girl in the World. I've heard nothing but amazing things! Girl in Pieces is an arc that I was able to snag at Yallwest this year! So big thank you to Random House for being so gracious and generous at their booth this year! The foreword letter from the editor at random house has me really excited to pick this one up soon. I'd really like to review it for its release date!
Okay these are all the fantasy books! OH BOY...so ummm, did I mention this is everything since the beginning of March AND it's almost June! LOL. Okay where do I even begin. Well...are you ready? I got
The Star Touched Queen by Roshani Chokshi
,
Ruined by Amy Tintera
,
Shadow Magic by Joseph Khan
,
A Court of Mist and Fury by Sarah J. Maas
,
Queen of Hearts by Colleen Oakes
,
Warrior Witch by Danielle L. Jensen
,
Heartless by Marissa Meyer
(!!!),
Soldier by Julie Kagawa
,
Heir to the Sky by Amanda Sun
,
The Hidden Oracle by Rick Riordan
,
Let the Wind Rise by Shannon Messenger
,
The Crown's Game by Evelyn Skye
,
The Lie Tree by Francis Hardinge
,
The Rose & The Dagger by Renee Ahdieh
(!!!) and
Scythe by Neal Shusterman
.
I'm the most excited about these three. HUGE SHOUTOUT AND THANK YOU TO FIERCE READS. I was able to get a Heartless arc at Yallwest. It was literal hunger games trying to get this arc at yallwest and I waited in line with my friend Kennia and her cousin for TWO FREAKING HOURS. It's one of my most anticipated especially after I loved The Lunar Chronicles. Also thank you to Simon & Schuster for this arc of Scythe by Neal Shusterman! It was a surprise arc, but it sounds SO GOOD. And of course, I had to spotlight The Crown's game -- MAGIC! RUSSIA! TSARS! YESSSSSSSSS!
OKAY THAT'S EVERYTHING!
Have you guys read any of these? Which ones are you the most excited for! If you made it to the end of this post! All the applause from me!! XD because I almost didn't!